T. Shawn Howard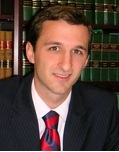 Shawn Howard earned both his undergraduate and law degrees at the University of North Carolina, graduating with honors.  He represents North Carolinians throughout the state who have been seriously injured due to another's negligence or intentional wrongdoing.   He also represents consumers in coverage disputes against insurance companies and in unfair debt collection cases. Shawn lives in Raleigh with his wife Samantha and son Evan.
PRACTICE AREAS:
Wrongful Death Cases
Automobile Accidents
Drunk Driving/DUI Collisions
Motorcycle, Bicycle, and Pedestrian Accidents
Industrial, Construction, and Other Workplace Injuries
Dog Bites and Animal Attacks
Insurance Coverage Disputes
Unfair Debt Collection
REPRESENTATIVE MATTERS
After 2 years of litigation, including extensive discovery, obtained a $599,500.00 mediated settlement on behalf of the Estate of a 31 year old killed in a crane collision. The defendants denied liability for the man's death and refused to make any settlement offer for over 3 ½ years before settlement was reached shortly before trial.  A full published report on the case is available here.
Obtained $250,000.00 on behalf of a client injured in serious automobile accident.
Reached $200,000.00 resolution on behalf of client against a motorcycle dealership that had failed to fully torque a bolt on his bike's front caliper, causing the motorcycle to suddenly seize during operation, resulting in multiple fractured ribs, two collapsed lungs, and shoulder fractures.
Reached $200,000.00 mediated settlement agreement for client injured by third-party while on the job.
Obtained $110,000.00 for mother and her son in a case where the 3 year old boy was attacked by a Pit Bull, causing permanent scarring to the child's upper right thigh. A full published report on the case is available here.
After significant litigation, including eight depositions, obtained $150,000.00 in a denied liability wrongful death case arising out of an automobile collision. The decedent was a passenger of a drunk driver who he had witnessed consume alcohol prior to getting in the car. The drunk driver reached speeds in excess of 90 MPH and caused a violent collision killing the decedent. The young man's parents were turned down by other reputable Raleigh injury lawyers due to concern that North Carolina's contributory negligence rule would bar recovery.
Represented U.S. Army Major who sustained traumatic brain injury and several broken bones following a motorcycle crash. Collected $60,000.00 – the full available insurance coverage.
Represented a Durham woman who sustained permanent facial scarring following a serious T-Bone. Obtained $50,000.00 settlement – the total amount of available insurance coverage.
$85,000.00 settlement of case against a teenage driver who had driven onto the sidewalk and struck client, causing a lumbar disc herniation.
Obtained limits of insurance coverage, $50,000.00, for client who sustained a herniated cervical disc in a rear end automobile collision.
Obtained $109,750.00 of owed Hospital Indemnity Policy funds for client. Her claim under a policy purchased by her father had originally been completely denied.  All owed benefits were paid.
Represented a bus passenger against a municipality for a torn quadriceps muscle caused by the negligent operation of the bus. Settled the claim for $120,000.00.
Reached $80,000.00 resolution for Raleigh cab driver struck by drunk driver who sustained lower back injuries.
Recovered $50,000.00, the limits of available insurance coverage, for a 5 year old Johnston County boy who was on his bicycle when he was ran off the road by a motorist who had crossed the centerline. The boy fell into a culvert and broke both wrists.
Reached $48,500.00 settlement on behalf of motorcyclist struck by negligent driver who sustained a nonsurgical, nondisplaced tibial plateau fracture.
Reached a $30,000.00 mediated settlement for young man injured on the job whose employer, contrary to North Carolina law, had failed to obtain workers' compensation insurance.
After filing suit, reached a settlement of approximately $25,000.00 for a Raleigh pedestrian injured by a hit-and-run driver who was tracked down by a motorist that had witnessed her hit the client and drive off.
Mediated settlement of $21,000.00 for client struck while changing a tire on the side of the road. Pre-litigation the insurance company offered nothing and denied any liability whatsoever, arguing that the client was parked on the highway and, therefore, contributorily negligent.  After several depositions, the insurance company reversed positions and agreed to settle at mediation for the medical expenses and a reasonable sum for pain and suffering.
Recovered $20,000.00 for Raleigh lady involved in a collision with a drunk driver where the only medical treatment was diagnostic evaluations performed immediately after the collision in the emergency room.
Despite denied insurance coverage, obtained a $17,500.00 settlement for a mother and her young daughter who endured serious respiratory and skin problems associated with exposure to stachybotrys mold in their leased home.
Assisted in drafting amicus curiae brief to North Carolina Supreme Court on behalf of North Carolina Advocates for Justice in case involving a denied Uninsured Motorist claim. The plaintiffs were two men that had been seriously injured following a tire flying out of the bed of an unidentified truck and coming through their front windshield. They attempted to recover their medical expenses through their own insurance policies but were wrongfully denied. The claim settled one day prior to oral argument in the North Carolina Supreme Court.
Drafted amicus curiae brief to the North Carolina Supreme Court on behalf of North Carolina Advocates for Justice in case involving a denied Underinsured Motorist claim. The plaintiff was a young girl who was permanently injured in a tragic automobile collision.  At the time, she was living in a home owned and paid for by her grandfather and was also receiving nearly all of her financial support from her grandfather. The insurer denied that the girl was entitled to UIM coverage under her grandfather's policy, the North Carolina Court of Appeals disagreed, and the matter was appealed to the North Carolina Supreme Court where it is still pending.
EDUCATION
D., with honors, University of North Carolina School of Law
A., University of North Carolina – Chapel Hill
ADMITTED TO PRACTICE
North Carolina State Courts
United States District Court for the Eastern District of North Carolina
United States District Court for the Western District of North Carolina
PROFESSIONAL AND COMMUNITY AFFILIATIONS
North Carolina State Bar
North Carolina Advocates for Justice, Legal Affairs Committee
North Carolina Advocates for Justice, Autotorts Section