T. Shawn Howard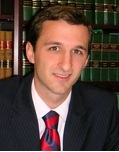 Shawn Howard is a "Double Tarheel," having received both his undergraduate and law degrees from the University of North Carolina, where he graduated with honors. Prior to joining Maginnis Law, he worked at an insurance defense firm representing automobile insurance companies. Having seen personally how insurance companies and defense attorneys seek to deny payment of even clear liability injury claims, he now exclusively helps injured North Carolinians recover compensation for medical expenses, lost wages, and other harms from those insurance companies. Along with Ed Maginnis, he also handles the firm's insurance coverage disputes when an insurer wrongfully denies coverage under a health, automobile, homeowners, or commercial insurance policy. Shawn writes the North Carolina Injury Law Report which provides updates of relevant North Carolina law for injury attorneys across the state. He lives in Raleigh with his wife Samantha, a kindergarten teacher in the Chapel Hill School System.
PRACTICE AREAS:
Drunk Driving/DUI Collisions
Automobile Accidents
Motorcycle, Bicycle, and Pedestrian Accidents
Wrongful Death Claims
Employment Injuries
Toxic Mold Litigation
Insurance Coverage Disputes
REPRESENTATIVE MATTERS
Obtained $250,000.00 of settlement funds on behalf of a North Carolinian injured in a serious automobile accident.
After retaining forensic engineer, reached a $200,000.00 resolution on behalf of client against a motorcycle dealership that had failed to fully torque a bolt on his bike's caliper, causing the motorcycle to suddenly seize during operation, resulting in multiple fractured ribs, two collapsed lungs, and shoulder fractures.
After significant litigation, including eight depositions, obtained $150,000.00 in a denied liability wrongful death case arising out of a Wake County automobile accident. The decedent was a passenger of a drunk driver who he had witnessed consume some amount of alcohol prior to getting in the car. The drunk driver attempted to race his vehicle and caused a violent collision killing one of his passengers and injuring the other. The young man's parents were turned down by other personal injury firms due to concern that North Carolina's contributory negligence law would bar recovery for the parents of the young man.
Represented a Durham woman who sustained permanent facial scarring following a serious T-Bone collision in which the defendant blew through a stop sign. Obtained a $50,000.00 settlement, the total amount of available insurance coverage.
Settled a claim for $85,000.00 against a teenage driver who had taken her eyes off the roadway, driven onto the sidewalk, and ran over plaintiff and her boyfriend, causing a disc herniation requiring surgery.
Reached total settlement of $50,000.00 for Raleigh lady who sustained a herniated cervical disc in a rear end automobile collision near Crabtree Valley Mall. The settlement was for the limits of available insurance coverage – $30,000.00 from the at-fault driver's automobile policy and $20,000.00 from the client's own Underinsured Motorist coverage.
Represented a bus passenger against a municipality for a torn quadriceps muscle caused by the negligent operation of the bus. Settled the claim for $120,000.00.
Recovered $50,000.00 limits of available insurance coverage for 5 year old Johnston County boy who was on his bicycle when he was ran off the road by a motorist who had crossed the centerline. The boy fell into a culvert and broke both wrists.
Reached $48,500.00 settlement on behalf of motorcyclist struck by negligent driver who sustained a nondisplaced tibial plateau fracture which did not require surgery
Reached a $30,000.00 mediated settlement for young man injured on the job whose employer, contrary to North Carolina law, had failed to obtain workers' compensation insurance.
After filing suit, reached a settlement of approximately $25,000.00 for a Raleigh pedestrian injured by a hit-and-run driver who was tracked down by a motorist that had witnessed her hit the client and drive off.
Obtained $20,000.00 settlement for Raleigh lady involved in collision with a drunk driver where the only medical treatment was immediately after the collision in the emergency room.
Despite denied insurance coverage, obtained a $17,500.00 settlement for a mother and her young daughter who endured serious respiratory and skin problems associated with exposure to stachybotrys mold in their leased home.
Reached mediated settlement agreement of $15,750.00 in a dog bite case involving a Raleigh woman bitten on the shin by a pit bull.
Participated in drafting amicus curiae brief to North Carolina Supreme Court on behalf of North Carolina Advocates for Justice in case involving a denied Uninsured Motorist claim. The plaintiffs were two men that had been seriously injured following a tire flying out of the bed of an unidentified truck and coming through their front windshield. They attempted to recover their medical expenses through their own insurance policies but were wrongfully denied. The claim settled one day prior to oral argument in the North Carolina Supreme Court.
EDUCATION
J.D., with honors, University of North Carolina School of Law
B.A., University of North Carolina – Chapel Hill
ADMITTED TO PRACTICE
North Carolina State Courts
United States District Court for the Eastern District of North Carolina
United States District Court for the Western District of North Carolina
PROFESSIONAL AND COMMUNITY AFFILIATIONS
North Carolina State Bar
North Carolina Advocates for Justice, Legal Affairs Committee
North Carolina Advocates for Justice, Autotorts Section
Wake County Bar Association, Public Service Committee
Triangle Adult Soccer League