Raleigh Bicycle Accident Personal Injury Litigation Attorney
Bicycles do not offer much in the way of protection, so when a negligent motorist strikes a cyclist with his or her car, the consequences can be dire.  If you or a family member has suffered a personal injury in a bicycle accident due to someone else's negligence, contact the attorneys of Maginnis Law at 919.480.8526 for a free evaluation of your case.  You may also submit an email inquiry using our contact page.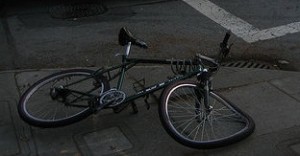 How We Can Help
The civil litigation lawyers of Maginnis Law can eliminate some of the stress associated with your physical and emotional recovery from a bicycle accident by handling your claim for you.  We will conduct a thorough investigation of your case by closely reviewing all relevant medical records, accident reports, and insurance policies.  Once we have established a list of damages to which you are entitled, we will meet with you to discuss an amount of compensation that would fairly compensate you for your injuries.  If we are able to negotiate for that amount with the automobile insurance company, we will of course recommend settlement to save you the time and stress of trial.  However, if the automobile insurance company refuses to offer fair settlement, we will aggressively litigate your case all the way through trial.
Compensation Available
Fair personal injury compensation in a bicycle accident claim often include damages for: (1) medical and pharmaceutical expenses; (2) property damage; (3) lost wages and/or loss of wage earning capacity; (4) physical, mental, and emotional pain and suffering; (5) temporary and/or permanent disability; and (7) punitive damages if the defendant's conduct is gross or willful and wanton.
Free Consultation and Contingency Fee Structure:
The civil litigation attorneys of Maginnis Law offer free consultations for all bicycle accident cases from Raleigh, Cary, Durham, Chapel Hill, Apex, Clayton, Morrisville, Wake Forest, and the surrounding Triangle area. We handle all personal injury matters solely on a contingency basis so that you pay no attorneys' fees unless you recover for your bicycle accident injuries.
Contact Us:
If you or a family member has been hurt while riding a bicycle in Alamance, Durham, Orange, or Wake County, contact the bicycle accident personal injury lawyers of Maginnis Law at 919.480.8526, or submit a new case inquiry by visiting our contact page.