Raleigh Automobile Accident Personal Injury Litigation Lawyer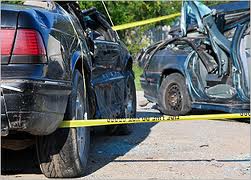 Serious automobile accidents can result in life-changing injuries. If you have been hurt by the negligence of an irresponsible driver, you have the right to hold him or her and their insurance company accountable. To do that, you need an effective personal injury lawyer that understands your rights and is capable of taking your case to trial. At the Raleigh law firm of Maginnis Law, all personal injury cases are handled by a team of attorneys that you call directly, without having to go through a team of "case managers" or paralegals.
In handling your automobile accident case, the first thing Maginnis Law will do is determine what insurance coverage is available to you. Many clients come in thinking that the only coverage provided is that from the policy insuring the other vehicle involved in the collision, but that is not always the case. There could be several applicable liability policies. You may also have underinsured motorist coverage that could pay a portion of your damages. A full understanding of your coverage situation can mean the difference between a $30,000 case and a $100,000 case.
After determining what coverages are available, the Raleigh lawyers of Maginnis Law will help you create a reasonable estimate of your damages. This is not an unreasonable guess pulled out of the air but an estimate based upon what a jury may reasonably be expected to award you. A calculation of damages is very case dependent, but you are typically able to recover compensation for the following:
(1) Medical, pharmaceutical, rehabilitation, and ambulance expenses;
(2) Diminished earning capacity (including past and future lost wages); and
(3) Physical, emotional, and mental pain and suffering.
You may also be able to recover punitive damages in situations where the other driver's misconduct rises to the level of willful and wanton. This most typically involves situations involving racing or drunk driving. If you have permanent injuries, there could also be additional compensation available.
Other than getting healthy, your most important job following on automobile accident is to find a lawyer you are comfortable working with. You should not assume that just because a law firm advertises, the lawyers are more experienced, qualified, or capable. The truth is that juries are suspicious of lawyers that advertise, as they may assume you are just after the "big bucks" promised by the commercials. The lawyers of Maginnis Law do not run television commercials or rely on past cases where the facts could be extremely different than your own. We rely on our reputation of building a case from the ground up, even when the facts are difficult, and referrals from friends, family, and fellow lawyers.
The lead attorney of the Maginnis Law personal injury team is Ed Maginnis and he is assisted by associate Shawn Howard. Together, they'll fight to protect your rights from overreaching adjusters. To get started with discussing your case, call the firm at 919.480.8526 (Shawn Howard) or 919.526.0450 (Ed Maginnis). You may also send a confidential email using our contact page.
Like other firms, Maginnis Law handles all automobile accident cases on a contingency basis. This means that you pay no fees unless we recover on your behalf. All consultations are free of charge. We represent automobile injury clients throughout the state of North Carolina but most frequently in the Triangle, including Raleigh, Durham, Chapel Hill, Cary, Apex, Garner, and the surrounding area.