September 27, 2011
Shoulder and upper limb injuries are a common result of high speed car accidents.  One specific painful and debilitating injury is "thoracic outlet syndrome."  This condition is caused by compression on the nerves, arteries, or veins coming from your shoulder and typically manifests through pain in the arms and hands.  Sometimes the pain only affects certain spots or even certain fingers. Numbness and weakness in the arms and hands are also typical symptoms.  Tingling, coolness of the skin, and discoloration of the skin are also sometimes found. Read more
September 21, 2011
As discussed in our blog of August 22, 2011, North Carolina House Bill 542 will drastically change our state's evidentiary rules in regard to personal injury trials.  The previous law only allowed the introduction of evidence of medical charges.  The amounts such charges are typically higher than what the medical providers actually receive in payment, because many personal injury claimants own health insurance.  The health insurers usually have arrangements whereby they pay medical providers only a portion of the full charges.  Pursuant to the new law, the only evidence which may be admitted is of the amounts actually paid in satisfaction of the medical bills and any outstanding amounts which must be paid. The new law effectively gives the negligent defendant the benefit of the plaintiff's years of paying healthcare premiums.  Of course, evidence that the defendant owns automobile insurance remains inadmissible. Read more
September 21, 2011
Many of the new job creation plans discussed in Washington discuss an increased focus on federal government construction projects and other federal business opportunities.  Not surprisingly, as seen at www.fbo.gov, North Carolina has many active federal opportunities and construction project solicitations.  The government contract and construction attorneys of Maginnis Law, PLLC can assist businesses with the government contract process and can be reached at 919.526.0450.  You may also submit a new case inquiry using our contact page. Read more
September 21, 2011
In many ways, a motorcycle accident personal injury case is like any other motor vehicle collision case.  If your injuries were caused by another driver's negligence, you are entitled to certain types of damages. Motorcycle accident cases are different from your average two-car collision in that, for obvious reasons, the injuries are frequently more severe.  Motorcycle accident injuries are often permanent and can lead to life-long health and financial difficulties.  As a result, it is critical that if you are injured in a motorcycle accident you contact a knowledgeable personal injury attorney to look out for your interests.  The motorcycle accident lawyers of Maginnis Law, PLLC offer free evaluations of personal injury cases and may be reached at 919.480.8526.  You may also submit a new case inquiry using our contact page. Read more
September 15, 2011
In North Carolina commercial collection, retail debt collection, or consumer debt collection, late fees on a loan payment are permissible if agreed upon by the parties to the loan contract.  However, there are significant limitations on what late fees can be charged to a debtor.  Contact the debt collection attorneys of Maginnis Law, PLLC at 919.526.0450 to discuss the validity of particular contractual legal fees in loan agreements or promissory notes.  You can also submit a request to be contacted via our contact page at www.maginnislaw.com/contact.
Some examples of prohibited late fees in loans include:
1)      Late fees in excess of 4% of the amount of payment past due;
2)      Late fees charged before the loan is 15 days past due;
3)      Late fees more than once for a single payment;
4)      Additional late fees accrued when a late fee is deducted from a monthly payment, resulting in a shortfall on a subsequent payment;
5)      Late fees on accelerated debt where repayment of the entire balance is due in a single payment.
The debt collection attorneys at Maginnis Law, PLLC can assist your business in properly structuring loan agreements and promissory notes as well as individuals subject to a personal loan with improper and unenforceable late fees in retail collection loans.  Maginnis Law, PLLC is a Raleigh litigation firm with civil attorneys handling cases in Cary, Apex, Wake Forest, Durham, and the rest of the Triangle area.  Contact the firm at 919.526.0450 to speak with a Raleigh commercial debt collection attorney or visit our website at www.maginnislaw.com
September 15, 2011
North Carolinians are increasingly using bicycles as a method of recreation and transportation. The continuous expansion of Raleigh's greenways is indicative of Wake County's own growing population of cyclists. Unfortunately, bicycles do not come equipped with airbags, seatbelts, or the layers of thick metal found on automobiles, so when a cyclist is hit by a negligent motorist, the results are often devastating.  The personal injury attorneys of Maginnis Law can help relieve some of the stress and financial burdens resulting from a bicycle accident by negotiating and litigating your claim for you.  You may reach the bicycle accident lawyers of Maginnis Law at 919.480.8526, or you may submit a new case inquiry by visiting our contact page. Read more
September 13, 2011
The effects of a car accident can range from disruptive to life-changing.  Even if you not require weeks of medical treatment, as many of our clients do, there is a strong possibility that you will endure several weeks of back, neck, and head pain.  The human body is simply not built for the violence of an automobile collision.  Unfortunately, insurance adjusters are employed to ensure that you do not make a complete financial recovery from the at-fault driver's automobile insurance company.  They usually offer settlement values which are significantly less than what you would be entitled to in court.  The Wake Forest car accident attorneys of Maginnis Law, PLLC are experienced in handling automobile accident cases and can help you both negotiate with the insurance company and, if necessary, litigate.  Our lawyers will work diligently toward obtaining the fair personal injury compensation to which you are entitled.  We may be reached at 919.480.8526, or you may visit our contact page to submit a new case inquiry.
The elements of a full personal injury compensation package will, depending upon the particular facts of your case, include recovery for the following:
(1) Medical expenses related to the care and treatment of the client, including hospital charges, physician fees, psychologist fees, psychiatrist fees, diagnostic testing fees, chiropractic fees, acupuncture fees, and the like;
(2) Property damage including the value of your car and the contents therein;
(3) Consequential damages including mileage reimbursement for visits to your medical providers;
(4) Lost wages and/or loss of wage earning capacity (for an explanation of the difference, please see our blog of September 7, 2011);
(5) Physical, mental, and emotional pain and suffering;
(6) Temporary and/or permanent disability; and
(7) Punitive damages (when the defendant's conduct is gross or willful and wanton).
The Wake Forest car accidents attorneys of Maginnis Law, PLLC offer free consultations for all personal injury cases and are happy to discuss with you a reasonable estimation of your damages.   Our personal injury matters are handled solely on a contingency basis so that you pay no attorneys' fees unless you make a recovery.  If we do not feel we can add value to your case, even after accounting for the attorneys' fees, we simply advise you how best to handle your case on your own.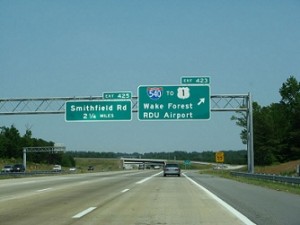 If you are involved in an automobile accident in Wake Forest, North Carolina, including injuries caused by an accident on or around U.S. Highway 1 or N.C. Highway 98, contact the civil litigation lawyers of Maginnis Law, PLLC at 919.480.8526. You may also use our contact page to submit a new case inquiry to our attorneys; you will typically receive a response within the day.
September 8, 2011
Failure to wear your seatbelt can lead to life-changing personal injuries if you are involved in a car accident.  Contrary to popular belief, though, failure to wear your seatbelt does not prevent you from recovering personal injury compensation if the automobile accident was caused by another driver.  Automobile insurance adjusters may attempt to persuade you that you have been contributorily negligent in not wearing your seatbelt, but this simply is not the law in North Carolina.  The car accident personal injury lawyers of Maginnis Law, PLLC can help you recover the fair compensation to which you are entitled regardless of whether you were wearing your seatbelt at the time of your automobile accident.  Our attorneys may be reached at 919.480.8526, or you may submit a request to be contacted via our contact page. Read more
September 7, 2011
September 7, 2011
If you have lost a family member because of the negligence of another party, you may be entitled to wrongful death compensation.  A wrongful death claim exists any time someone killed by of the wrongful act of another could have, if he or she survived, validly sustained a suit for damages caused by such wrongful acts.  Wrongful death claims most commonly develop from cases of negligence but can also come from intentional torts such as assault.  If you are considering filing a wrongful death lawsuit, contact the Raleigh wrongful death attorneys of Maginnis Law, PLLC at 919.480.8526. Read more